Media / Press Releases
SOLARWORKS NJ PROUDLY ANNOUNCES COMPLETION OF B&B PRODUCE SOLAR ARRAY
June 02, 2011

TURNERSVILLE, NJ – SolarWorks NJ, LLC, a leader in designing, managing, and building turnkey solar electricity installations and renewable energy solutions, is proud to announce the completion of a solar installation at B&B Produce in Hammonton, NJ.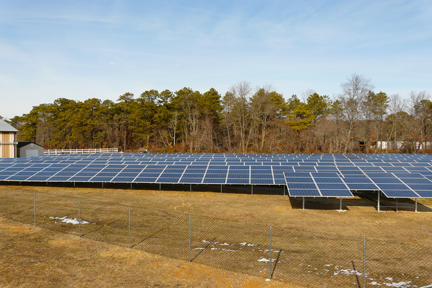 B&B Produce, Inc. is the first farm in Hammonton, New Jersey to install a large solar energy system. A 224.94 kW ground mount solar energy system was installed over 1.2 acres, and will offset 87% of B&B Produce's electric usage. The solar array will produce over 266,000 kilowatt hours annually, which is equivalent to planting 30 acres of trees or powering 162 homes.
The system consists of 978 Trina 230 Watt Modules with DPW's Multi Pull Mounts being used as a ground racking system. In addition, the array has a sophisticated monitoring system that receives and stores measured values and data from the inverters.
"We are thrilled to be working in association with a high caliber company like B&B Produce," said Steve Masapollo, CEO of SolarWorks NJ. "Our goal was to build the very best system possible for B&B."
Started back in 1977, B&B Produce, Inc. is located in Hammonton, NJ. Producing everything from yams to Driscoll's, New Jersey blueberries, they are proud to be an agricultural company on the leading edge of using a renewable energy source. B&B Produce brokers, packs and ships many delectable fruits and vegetables for distribution in North Carolina and other states. B&B Produce believes in giving customers the best quality possible.
About SolarWorks NJ
SolarWorksNJ, LLC (SWNJ) is a premier solar energy integrator with offices in Turnersville and Denville, New Jersey. Founded in 2003, SWNJ provides full-service renewable energy solutions to residential, commercial and agricultural clients in the tri-state area. SWNJ designs and installs solar energy systems. Ranked #1 by the prestigious Philadelphia 100 and the NJ "Top 25." Recognized by NJ Biz Magazine as "Emerging Business of the Year."