Home Owners

Installing a solar energy system for your home can save you thousands of dollars on electricity over the life of the system. Not only will you save money on your electric costs and hedge against rising electric rates, you will increase the property value of your home.
SolarWorks NJ offers the highest, most efficient quality solar energy systems in terms of reliability, performance and satisfaction. With our unique blend of expertise for every phase of your project, SolarWorks NJ makes installations easy and turnkey. We will design and install your system on time and on budget, guaranteed.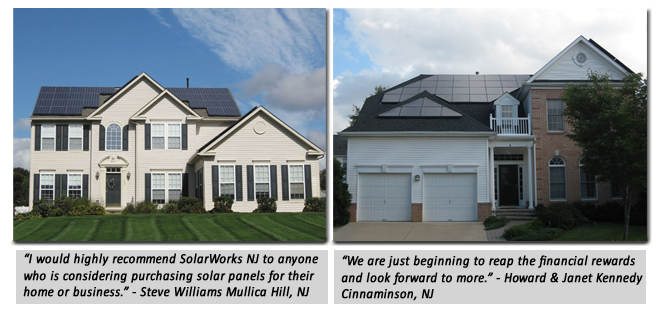 SolarWorks NJ is committed to providing individualized service by catering each project to our client's needs. We provide customers with knowledge on going solar electric which allows them to feel comfortable and secure when choosing the best solar solution for their home. We have earned a reputation for providing ongoing support and service long after the project is finished.
Contact us for a free consultation. We will determine if your home is a good candidate for solar by reviewing your orientation, roof pitch and amount of shading. We will also need to review your previous 12 months of electric usage.
We provide:
On-site analysis to determine the best system

Comprehensive Financial Analysis

Comprehensive Energy Analysis

All NJCEP Paperwork including: Rebate/SRP Application Form & Technical Worksheets
Utility Interconnection

Permit Procurement

Rebate Assignment

SREC Aggregator

6 Year Workmanship Warranty